The Newport Connection to "The Great Air Race"
Next Tuesday evening on PBS (Channel 28 at 9 p.m.) a new season of a series called "The American Experience" will begin. The opening segment, "The Great Air Race" describes the first round-the-world flight in 1924, and it has a very special local significance. It includes an interview with Aloha Wanderwell Baker of Newport Beach, as well as film footage she shot of this event in Calcutta, India, 65 years ago.
Aloha Baker is an original. I've written about her before, but the stories never stop coming, and somehow the newest one always seems to top those that have gone before. Consider, for example, her connection with "The Great Air Race."
In 1924, when Baker was a precocious 16, she joined the expedition of a Polish adventurer whose name was so difficult to pronounce in English that he adopted "Wanderwell." (Aloha later married him.) The mission of the expedition was to drive two Model T Fords around the world–long before the advent of universally paved roads and gasoline stations.
About halfway through the trip–which took almost three years–the Wanderwell group learned that Gen. Billy Mitchell had sold the U.S. government on the idea of sponsoring the first effort to circle the world by air. It would be made by half a dozen early Douglas transport planes, crewed by Army pilots and navigators. As Mitchell predicted, the idea attracted a great deal of public attention all over the world–including Arabia, where the Wanderwell expedition was temporarily bogged down.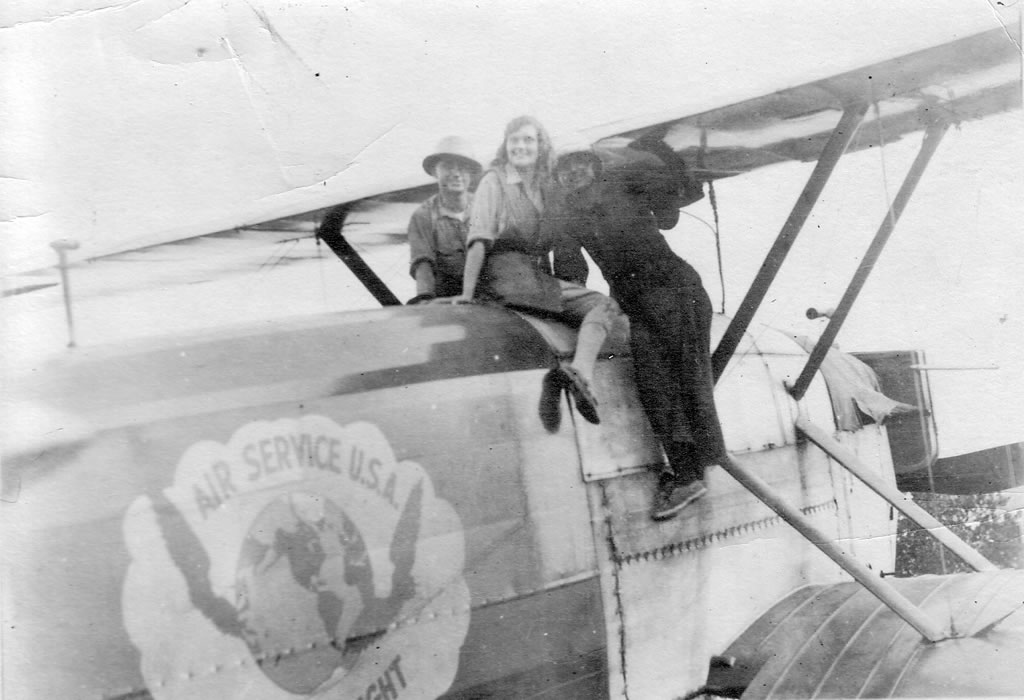 Let's let Aloha Baker pick up the story there. Today, she is a tall, lean, courtly woman with a firm handshake and dancing eyes who lives with her second husband, Walter Baker, on Lido Isle.
"We had been following the progress of this flight from the beginning," she recalls. "It was getting a lot of newspaper space, as were we, and we knew that somewhere we would cross paths with these pilots, since we were going around the world in opposite directions."
Their paths crossed at a difficult time for the Wanderwell expedition. Passport problems in Egypt decimated the group, and only Capt. Wanderwell was allowed to go ashore with the two cars in Arabia after crossing the Mediterranean by ship from Alexandria. The rest of his group was ordered back to Egypt. Only Aloha was able to beat the system quickly and rejoin Wanderwell, and as they awaited the rest of their group, it became clear that the only possible meeting place with the pilots was going to be Calcutta, India.
"I finally told the captain," says Baker today, "that we couldn't make it in time if we waited any longer. Also, the monsoon season was coming, and we had 2,000 miles to cover trying to stay ahead of it. But we were determined to connect with the pilots, so the two of us started for Calcutta from Aden, Arabia, alone, each driving a car."
She doesn't remember, now, exactly how long it took to cover those 2,000 miles. But she does remember that the road was frequently a pair of oxen tracks, that the only bridges across rivers were sometimes railroad trestles, and that gasoline was a constant problem.
But somehow, they got to Calcutta the day after the first Army plane arrived. "I couldn't get out of bed for a night and a day," she recalls. "In addition to all our other problems, we had been driving for almost the whole trip across India in temperatures between 110 and 120 degrees."
But their timing was exquisite. They left their cars on display in a central square downtown and went to bed. By the time they were rested, two of the Douglas World Cruisers had landed in a river next to the square (the planes were equipped with pontoons) and were also on display, along with the crews that had flown them there. So the two groups of explorers–one airborne, the other landlocked–met in Calcutta, and Aloha recorded the event on film.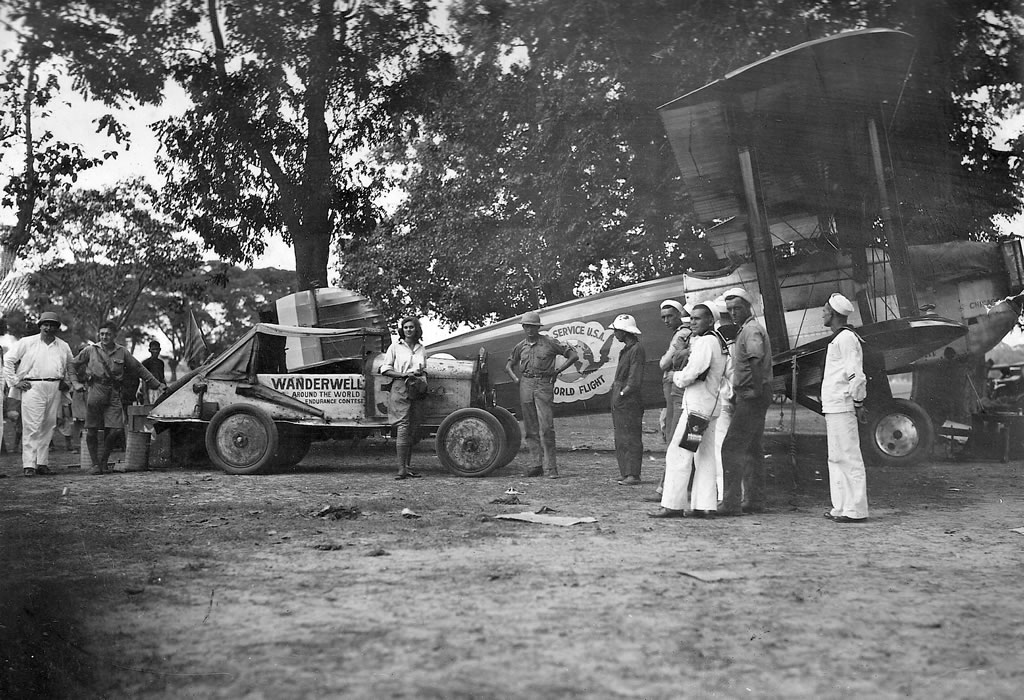 Aloha Crosses Paths With Freedom Flyers
Cut now to more than six decades later. A New York film company called David Grubin Productions has come up with the idea of a television series based on stories that illuminate the "American Experience" and has chosen the 1924 round-the-world flight to lead off the 1989 season. In researching the story, Grubin discovered that Aloha Baker was unique among living witnesses of the flight (two of the pilots are still living and are interviewed on the show) because she had actual film footage of her meeting with the flyers. She was unique in a lot of other ways, too, but the film makers didn't know that until they sent a crew to Newport Beach last February to film an interview with Baker.
The trick, as a Grubin representative later wrote Baker, "is figuring out how to get your story and your reason for being in India across without straying too far off the track of the story of the world fliers." In other words, Aloha Baker is a tough act to give second billing, even 65 years after the event.
But she had many years at center stage as a lecturer, showing her films and describing her adventures "until theaters stopped booking programs like mine, and I had to work in school auditoriums and club rooms." So shortly after World War II, the Bakers settled in Newport Beach, where Walter became a successful businessman and Aloha edited her film library for museums and organized her voluminous files into a book.
The book is now making the rounds of publishers, but at least you can pick up a small vignette of this remarkable woman on TV next week. It will be repeated on Channel 28 at 11:30 p.m. on Oct. 8 if you miss it the first time around.
Meanwhile, you might want to ponder–as I do frequently–how many people with fascinating histories live quietly, and often anonymously, among us.
September 30, 1989 | JOSEPH N. BELL | LOS ANGELES TIMES