MAILING ADDRESS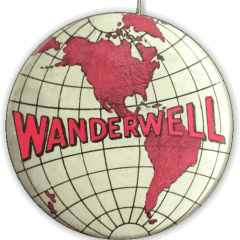 Richard Diamond Trust
Aloha Wanderwell™
23052-H Alicia Pkwy #317
Mission Viejo, Ca. 92692
949-891-1024
---
The Aloha Wanderwell™ Brand
Aloha Wanderwell™ is a trademarked protectable property right owned by The Richard Diamond Trust. The Richard Diamond Trust is the exclusive business representative for the brand of Aloha Wanderwell, Aloha Wanderwell-Baker and the Wanderwell Expeditions.
The Trust of Richard Diamond works with companies around the world for the commercial use of the name, likeness and films of Aloha Wanderwell or Aloha Wanderwell-Baker.
Social Media Mastery
Over 75,000 visitors follow Aloha's adventures on every social media network. The Richard Diamond Trust has developed a loyal following on Facebook, Twitter and Google. Media lovers browse her YouTube, Pinterest and Instagram archives for some of the most unique glimpses of the people, cultures and historical landmarks of Six continents from the early 1920s.
Global Delivery
As these services expand throughout the globe, Aloha Wanderwell's adventures offer an immediate cultural connection with every country. The Richard Diamond Trust operates the official Aloha Wanderwell websites on every continent to serve this worldwide market.
Exclusive Authorized Content
Aloha carefully tended to her priceless collection of films, photos, journals and artifacts from her travels. The Richard Diamond Trust continues to manage the cataloging and preservation of her collection by authorizing the use of her copyrighted documents and media. The Trust assists authors, producers, historians and biographers in publishing authentic and unique content in every media category.
The photo's, documents, media and signature of Aloha Wanderwell & Aloha Wanderwell Baker have registered copyrights owned and exclusively administered and licensed by the Richard Diamond Trust.
Any use of the above, without the express written consent of the Trust of Richard Diamond is prohibited.