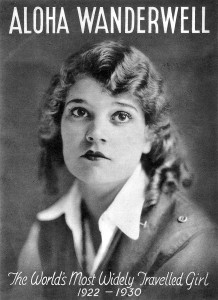 Life Story
Aloha was born on October 13, 1906. Inspired by the fantastic tales she read in her father's beloved collection of boyhood books, she dreamed of travel, adventure, and intrigue in far-flung corners of the globe. In 1922, when she was 16, she embarked on an ambitious around-the–world expedition led by "Captain" Wanderwell…
Achievements
First woman to drive around the globe. (Wikipedia)
Drove 43 countries in a Ford Model-T.
Earliest films of the Bororo people of Brazil.
Visited over 80 Countries in the 1920s.
First across India and Cape Town to the Nile.
Traveled over 380,000 miles with car and camera.
Drove around the world at age 16.
First woman to fly Brazil's Mato Grosso.
Filmed the first flight around the world.
Member of the French Foreign Legion.
Movies displayed at The Library of Congress.
Women's International Association of Aviators.
Films are preserved in the Smithsonian Institution.
Started Work Around the World Educational Club.
---
Driving Around the World
Aloha responded to an ad declaring "Brains, Beauty & Breeches – World Tour Offer For Lucky Young Woman… Wanted to join an expedition… Asia, Africa…", meeting Captain Wanderwell in Paris and securing a seat on this daring expedition.
On their trip they used kerosene for gasoline, crushed bananas for grease in the differential and water and elephant fat for oil in the engine. In India on their round-the-world trip oxen were frequently required to tow the Ford Model-T across mud flats and rivers. In China in 1924, when civil warfare made it impossible to purchase fuel, laborers towed the car for eighty miles…
GET EXPEDITION UPDATES ON FACEBOOK & TWITTER